Table of Contents

You've put in the hours and created what you believe is fantastic content thinking about google indexing, right?
Yet, as you impatiently type in keywords, your page remains elusive in Google search results.
The question looms – why isn't your content showing up?
If you've been pondering over "how to index on google", you're in the right place.
Dive into our Google Indexing Guide to not only get your page indexed but also make it thrive on Google.
1) Google Search Console is your diagnostic tool

Google Search Console (GSC) is a vital tool for website owners and SEO professionals because it provides valuable insights and controls regarding how Google interacts with and understands your website.
Checking your GSC is the first step in troubleshooting the nature of the problem.
How can you identify google indexing issues with Google Search Console?

1) Identifying indexing issues


Access Google Search Console and sign in with your Google account.


Select the property (your website) you wish to examine.


Go to the "Coverage" section to see a detailed report of indexed pages, indexing errors, warnings, and exclusions.


Common errors include pages blocked by robots.txt, redirection issues, not found URLs (404 errors), server errors (500) and forbidden access (403).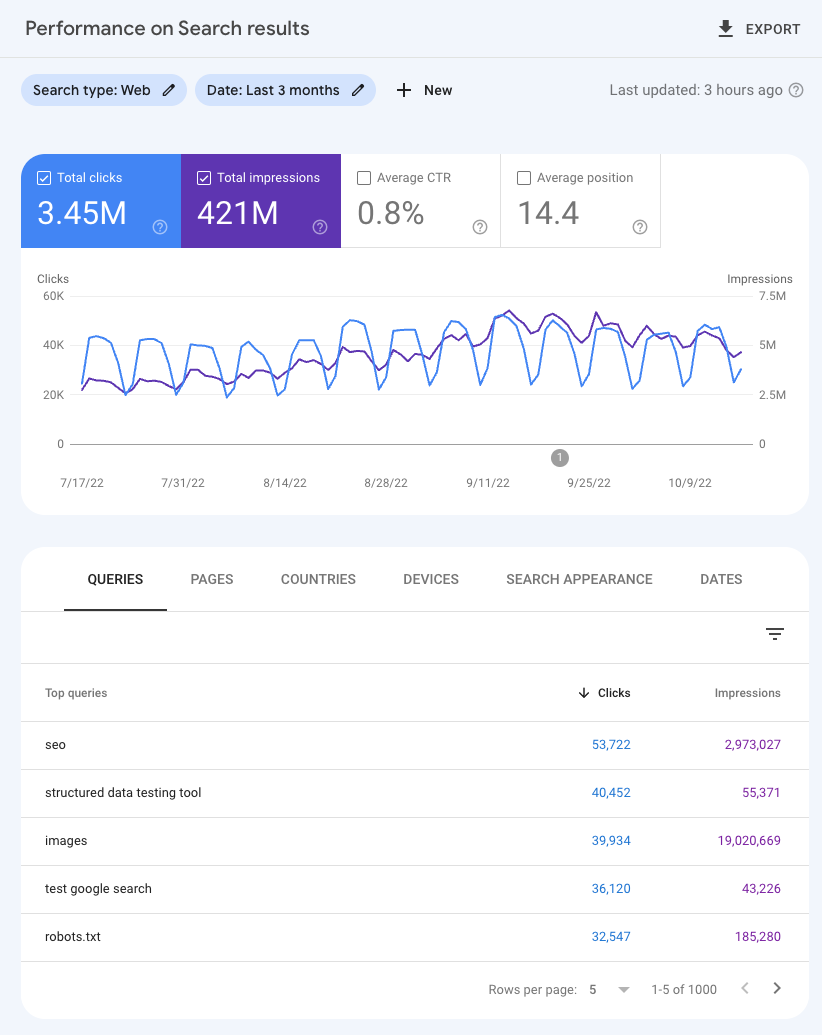 2) Checking for pages blocked by robots.txt:

If robots.txt blocks pages, update the file to give Googlebot access.
This file is located in the root directory of your website.
It contains instructions specifying which parts of your website robots can or cannot access.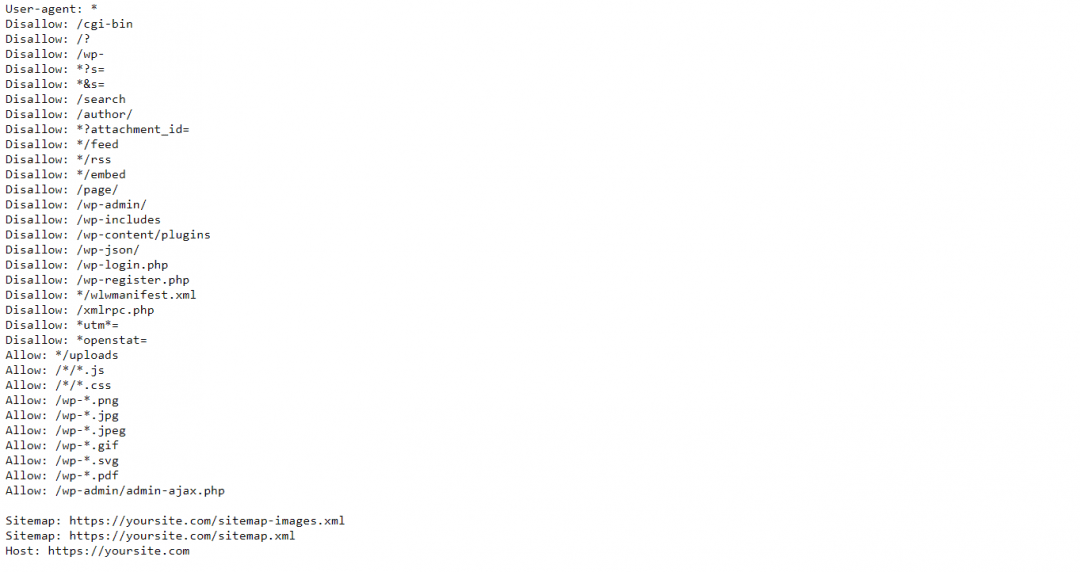 Accessing robots.txt: open a new tab in your web browser and type www.example.com/robots.txt, replacing "example.com" with the actual domain name of your site.

To pinpoint disallowed pages, look for lines like Disallow: /example-page/ in robots.txt, which show that the page is off-limits for indexing.


If a page is wrongly blocked, correct or remove the "Disallow" instructions.

This task may require a web developer or SEO expert if you are not comfortable making the changes yourself.

3) Verifying 'noindex' via an SEO plugin in WordPress



WordPress, a widely-used content management system, may present indexing challenges due to its numerous settings.
To ensure optimal Google indexing, follow these steps:
Access your website's dashboard: Login to your website dashboard. For WordPress users, this would typically be yoursite.com/wp-admin.
Navigate to the SEO plugin: Once logged in, find the SEO plugin you are using (e.g., Yoast SEO) usually located on the left sidebar.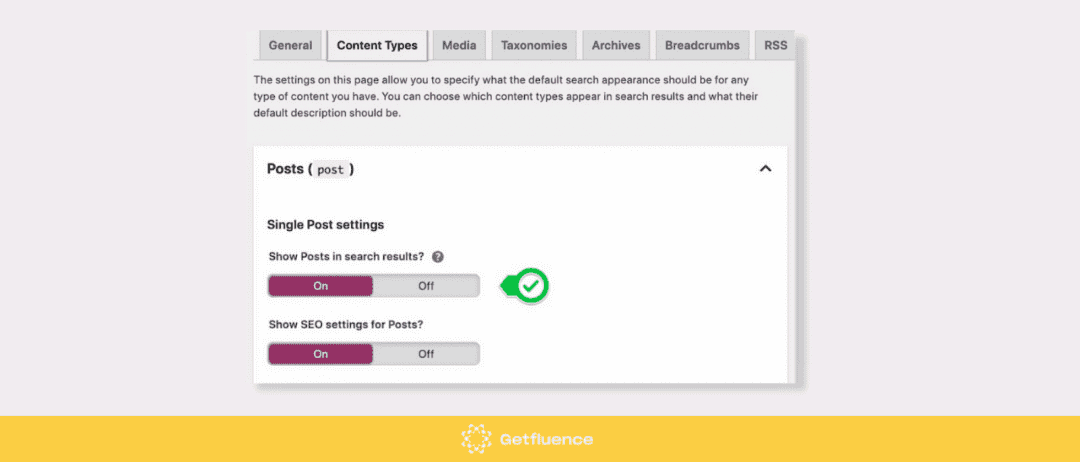 Check SEO settings: Within the page editor, there should be a section, tab, or meta box provided by your SEO plugin. Look for a setting related to indexation, usually labeled as "Meta Robots Index" or similar.
For the 'noindex' setting, confirm it's set to "index" or its equivalent, ensuring the page is not marked as 'noindex'.


2) Did you submit a sitemap in GSC?

Now that your settings are ok, and before diving into sitemap submission, it's crucial to analyze three fundamental aspects of your website for a perfect Google indexing.
Those three aspects significantly impact Google's ability to index your content: content quality, internal linking, orphan pages.
Content quality: Prioritize creating content that's original, valuable, and well-structured. High-quality content has a better chance of getting indexed and ranking high on Google.


Internal linking: A solid internal linking structure facilitates Googlebot crawl and index your website. Ensure that other sections of your site link to your pages, and that they are easily accessible through the navigation menu.
Ensure each page on your website links from another internal page, making it accessible via the site's navigation. This enhances the user experience and helps search engines index your content efficiently.
Move to the " Streamlined site architecture" and "Effective internal linking" section and you will find more tips and tools to identify orphan pages.
Now, let's move on to sitemap submission:


Many website platforms like WordPress have plugins (e.g., Google XML Sitemaps, Yoast SEO) that can create a sitemap for you.
Locate your sitemap URL:


Your sitemap will be located at a URL on your website, typically something like https://yourwebsite.com/sitemap.xml.

Proceed to section 5) A cohesive and structured site architecture and 6) Internal linking is very important for more advice on identifying orphan pages.
Submit your sitemap:

Once logged in Google Search Console with your Google account, select the property (website) you'd like to submit the sitemap for from the property list.

In the left-hand menu, click on "Sitemaps."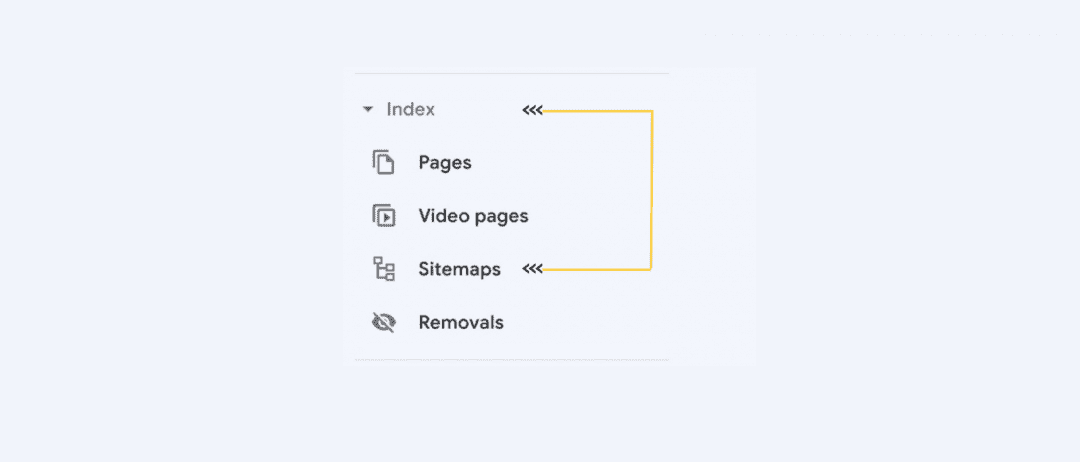 In the "Add a new sitemap" section, enter the URL of your sitemap (e.g., sitemap.xml), then click on "Submit."
Check submission status:


After submitting, it may take some time for Google to process your sitemap.


You can check the status of your sitemap submission in the "Sitemaps" section.

3) Content matters – make it valuable

Google uses an exploration robot, known as Googlebot, whose primary mission is to crawl your page and determine its indexation and positioning within search results.
But how does it decide?
Think of it as a digital spider, tirelessly crawling the vast web, visiting pages, and gathering data.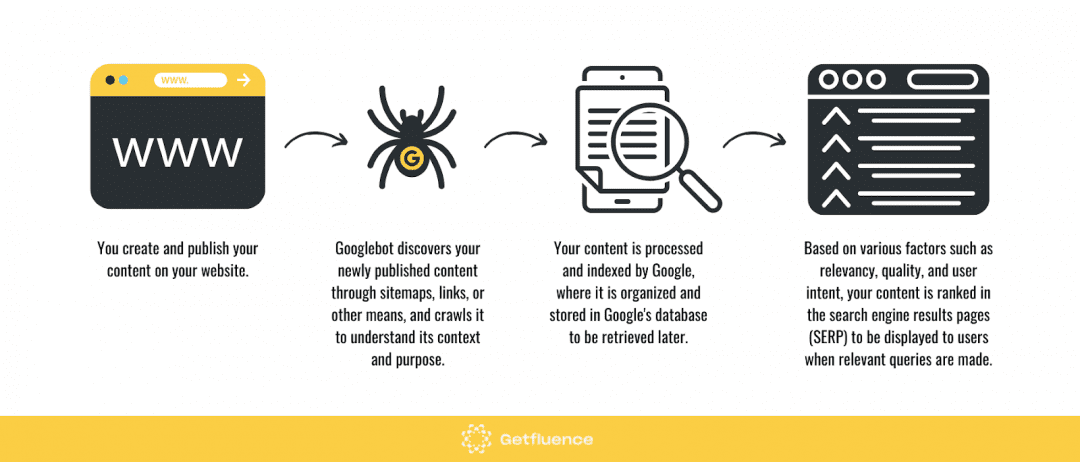 But that's just the first step. Enter the second one: Google's sophisticated algorithm.
While Googlebot collects, the algorithm assesses. It looks at the data, gauges the content's relevancy, evaluates its quality, and then decides where it belongs in the vast sea of search results.
For meaningful google indexing, your content should resonate with the audience, with your niche and make it just perfect for the topic.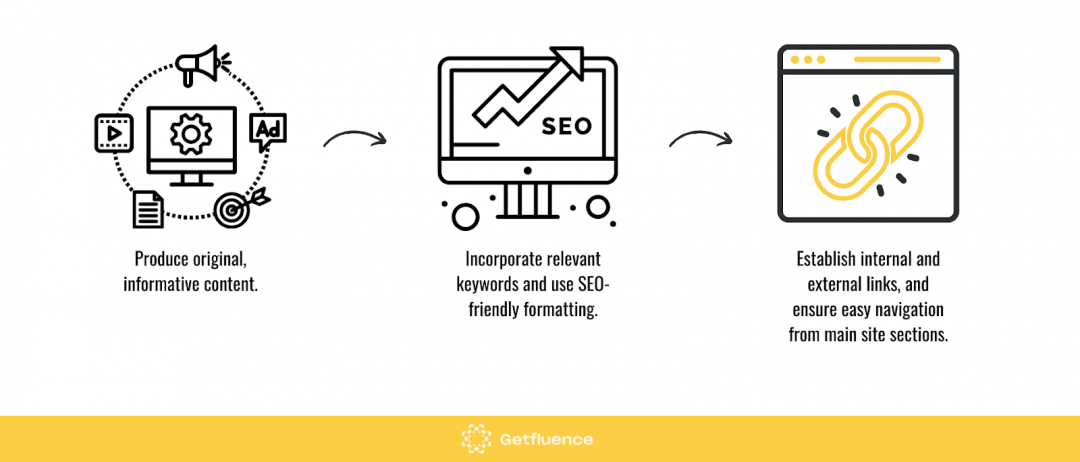 How to create compelling content for a great google indexing ?


Originality and depth: Ensure your content provides original insights, thorough coverage of the topic, and adds substantial value compared to other pages.
Trustworthiness and expertise: The content should reflect a high level of expertise and be presented in a trustworthy manner. Make sure it's accurate and free from factual errors.


Long-form content: When appropriate, create long-form content as it tends to rank higher in search engine results. It also provides an opportunity to cover a topic in depth, which can be valuable to readers.

Limit typographical errors: Mistakes can affect the credibility of your content. Proofread to ensure accuracy and professionalism.

Integrate and vary keywords: Incorporate relevant keywords naturally and avoid keyword stuffing. Using a variety of related terms can also enhance SEO performance.

HN (H1, H2, H3, etc.): Utilize HN to structure your content, making it easier to read and navigate. Including keywords in headers can also be beneficial for SEO.
Meta description and title: Create engaging meta description and titlethat include your relevant keywords. This not only helps with SEO but also encourages users to click through to your content.


Optimise your content with structured data to facilitate the emergence of Rich Snippets in Google's search results. Utilising structured data can assist your content in being featured as Rich Snippets, thereby improving its visibility. Formats such as Q&As serve as exemplary cases; however, the potential applications of Rich Snippets extend beyond this. Commonly employed structured data include Aggregate Ratings (customer evaluations), Breadcrumbs (enhanced breadcrumb trail displays), and structured data pertinent to Products, Events, Questions/Answers (Q&As), and Recipes.


Provide your perspective and a conclusion: Offering a unique viewpoint or summarizing main points makes your content more valuable to readers.


4) Beware of duplicate content

Duplication is a significant no-no. Not just identical words, but similar phrases can also land you in hot water.
Ensure your content remains unique and genuine, Google rewards originality. Make sure your content isn't replicated elsewhere and offers fresh insight.
Copyscape is a plagiarism checker that can help you ensure that your content is original and not duplicated from other sources.
Simply enter the URL of your page or copy-paste your content into Copyscape's search bar to find any instances of duplication across the web.
Initially draft without relying too much on external sources for an authentic touch.
5) Streamlined site architecture
Ensuring a smooth user experience (UX) is crucial for both visitor satisfaction and optimal Google indexing.
A well-structured site enables visitors to find the information they seek effortlessly, which in turn can lead to longer dwell times, reduced bounce rates, and ultimately, higher conversions.
To achieve a streamlined site architecture, it's advisable to visualize and analyze your site's structure, ensuring it's logically organized and error-free.
Below are some tools that can assist you in this endeavor:
Screaming Frog SEO Spider: This tool allows for a comprehensive crawl of your website to analyze and visualize its architecture. It's instrumental in spotting potential issues like broken links, redirects, and more.
Sitebulb: Offering a more visual and intuitive approach, Sitebulb provides insights into URL structures, internal linking, and other critical aspects of your site's architecture.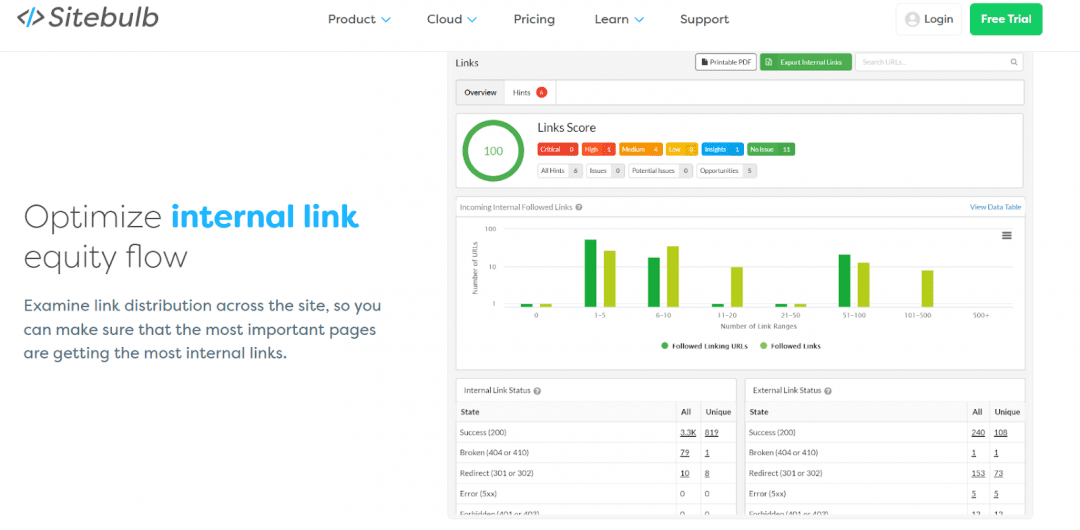 6 key elements of effective site architecture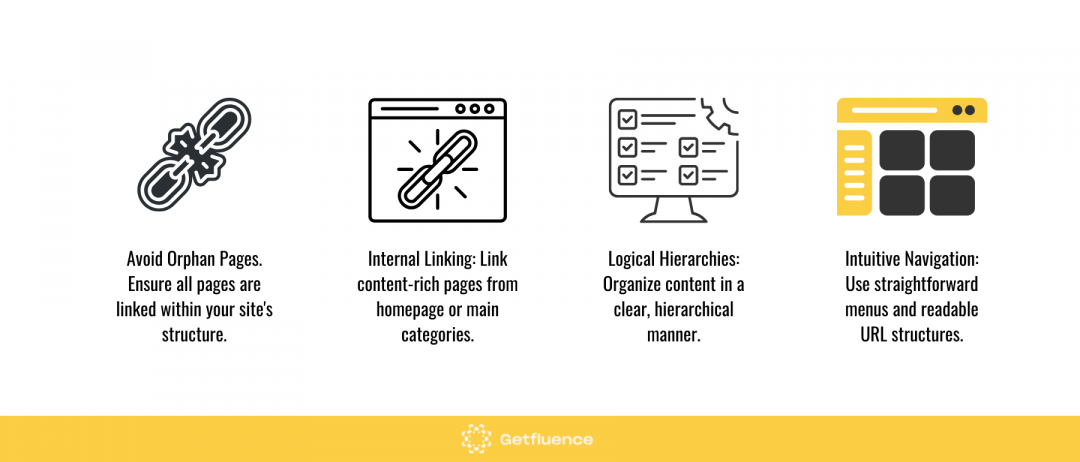 Avoiding orphan pages: An orphan page is a webpage that is not linked to by any other page on the website, making it inaccessible through the site's navigation. Orphan pages are generally not favored for indexation as they are harder for Googlebot and users to find.
Internal linking: Ensure that every page is linked to from other parts of the website, especially content-rich articles or key landing pages, must be linked to the other pages. The closer a page is linked to the homepage or main category pages, the more likely it is to be indexed and valued by Google.


Logical hierarchies: Think of your website as a book. There should be a clear table of contents (home page), chapters (main categories), and subsections (subcategories or individual pages). This hierarchical arrangement helps in organizing content in a digestible manner.


Intuitive navigation: Menus and navigation bars should be straightforward. Avoid overwhelming users with too many options. Instead, use dropdowns or expandable menus for multi-layered content.


Breadcrumb trails: These are clickable paths that show users their location on your site. For instance, Home > Blog > Article Title. Breadcrumbs not only help users navigate but also give Google another way to understand the structure of your site.


URL structure: URLs should be readable and indicative of the content. For instance, www.example.com/blog/seo-tips is preferable over www.example.com/12345?p=67.


6) Effective internal linking, it's a must for a perfect Google indexing
Ensure the links are relevant; a page about "baguettes" shouldn't link to "men's shoes".
Dive into the concept of semantic cocoons for a structured linking strategy.
Why? Internal linking acts as the signposts, pointing visitors to related content and ensuring they don't get lost.
But beyond enhancing user experience, internal links play a pivotal role in optimizing a site for search engines.
Googlebot uses internal links to discover content on your website. A cohesive internal linking strategy helps distribute page authority throughout the site, raising the profile of key pages.
And remember, avoid orphan pages.
Google indexing, 3 strategies for effective internal linking:
Link deep: Instead of always linking to your homepage or main category pages, aim for deep links that point to the meat of your content.
Utilize topic clusters: Create content around a specific topic and linking related articles together. For instance, a cornerstone article on "The History of Footwear" can link to subtopics like "Evolution of Men's Shoes" or "The Craftsmanship Behind Women's Heels".
If you use WordPress, add Link Whisper plugin that helps manage and optimize internal linking by suggesting relevant internal links as you write content.

There are also easy yet efficient techniques to improve internal linking such as:
Add a link to the article from another indexed article.
Link it from a category.
Add a link from the homepage, one of the most powerful page of a website.

7) Boosting your digital reputation is a fundamental Google indexing essential

If your content doesn't rank well, or doesn't index, your reputation can make or break your presence.
Just like in real life, where a person's reputation precedes them, your digital reputation determines how authoritative, trustworthy, and relevant your website appears to both users and search engines.
And a significant part of this reputation hinges on backlinks.
Backlinks, often referred to as "inbound links" or "incoming links", are hyperlinks from one website to a page on your website.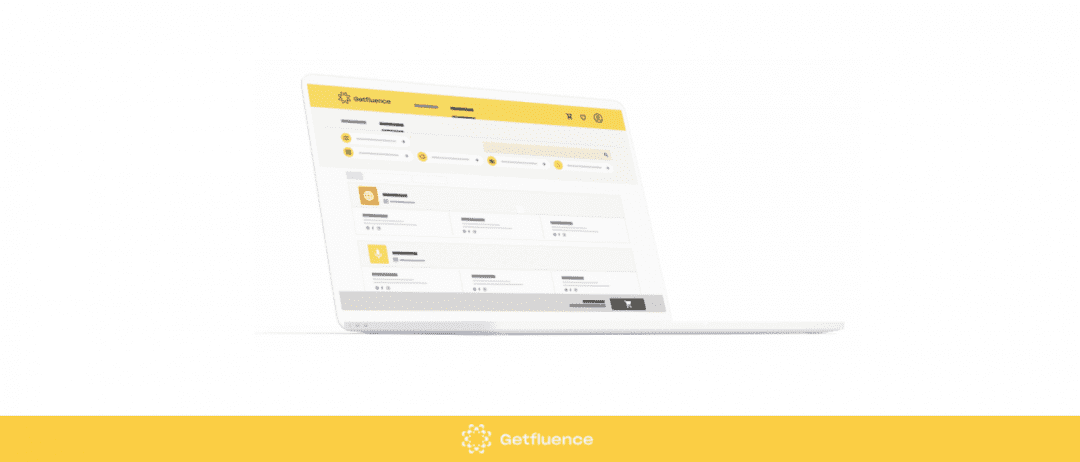 Strategies to cultivate high-quality backlinks:
Make your content shareable: To get those valuable backlinks, you need to create content that people find useful, interesting, and worth linking to. Put time into conducting original research, creating in-depth guides, designing eye-catching infographics, and producing videos that grab attention. People will want to share your content naturally, boosting your backlink profile effortlessly.
Use Getfluence: Getfluence is a marketplace that connects advertisers with premium publishers, facilitating sponsored content opportunities. Partnering with Getfluence can help you acquire high-quality backlinks from reputable sites in your industry.
Leverage social media: While most social media links are no-follow (they don't pass SEO value), they can drive traffic and lead to indirect link-building opportunities. A popular article shared on social platforms might catch the attention of bloggers or journalists who then link to it.
Skyscraper technique: Find popular content within your niche, create something even better, and then reach out to those who linked to the original content, asking them to link to yours.
Broken link building: Discover broken links on other websites that are relevant to your content. Reach out to the developer with a friendly note about the broken link and offer your content as a replacement.
8) Tackling HTML errors to improve your online presence

While Google's algorithms are robust and advanced, they are not without their challenges, especially when it comes to indexing a website's content.
These challenges often originate from the very foundation of your online presence: the HTML code.

One way to preemptively address and correct these issues is by utilizing the W3C Validator.
The W3C Validator is a great tool provided by the W3C that allows developers to check the validity of their HTML code against the web standards set by W3C.
It helps ensure your website is structured correctly, thereby facilitating better indexing by search engines like Google.
Here, a simple guide to use it.

Enter the URL of your website or upload the HTML file you wish to check.


Click on "Check" to start the validation process.


The tool will rovide a list of errors, warnings, and recommendations based on the current web standards.


Reviewing and correcting errors:

Review the listed errors and warnings, and make the necessary corrections to your HTML code.


Common issues might include missing closing tags, improperly nested elements, or deprecated HTML attributes.


After making corrections, run the validation process again to ensure all issues have been resolved.
9) Beware of the main errors blocking indexation

Errors can range from minor to critical, but the key is to recognize and address them efficiently:

Error 404: This is the digital equivalent of a dead-end. When a page is not found, it's often due to broken links or pages that have been deleted or moved and were previously indexed.
Redirection 301: While it's essential for migrating content or restructuring, excessive or improper use of 301 redirects can disrupt Googlebot. Ensure that you're redirecting for the right reasons and that the redirects lead to relevant content.


Erreur 500: These are the silent killers. Server-side issues can sometimes be elusive, especially when your site seems to function normally for users. It's essential to coordinate with your hosting provider or developer to delve deeper into these errors.


Erreur 401/407: Unauthorized errors suggest permission issues, signaling that Googlebot can't access specific parts of your site. Check your server's authentication settings or consult with your developer to ensure there aren't unwarranted restrictions.
To address the specified errors, as we said before, use Google Search Console for basic error detection. For an in-depth analysis, tools like Screaming Frog or Sitebulb are helpful.

10) Optimizing site speed for enhanced performance

A vital criterion for SEO, page speed can dictate Googlebot's efficiency in crawling your site.
Even a 100ms delay might seem insignificant, but imagine a JS or CSS file with 10,000 lines of code!

Utilizing performance analysis tools:
Google PageSpeed Insights, is a free tool provided by Google that analyzes the content of a web page and then generates suggestions to make that page faster.

Access Google PageSpeed Insights, enter your webpage URL, and click "Analyze" to get a detailed report on your page's performance on both mobile and desktop, along with recommendations for improvement.

Or, you can use GTmetrix, which provides insights on how well your site loads and provides actionable recommendations on how to optimize it.

Access GTmetrix, enter your webpage URL, and analyze to find a comprehensive report on various speed and performance metrics.
To accelerate your website:
Optimize images: Right formats and dimensions can be game-changers.Ensure images are in the right format and compressed to a smaller file size without compromising quality. Tools like imagify or TinyPNG can be used for image compression.


Minimize files: Condense JS/PHP/CSS files and optimize scripts. Reduce database requests and utilize file minification tools.


Cache systems: For WordPress users, a plugin like WP Rocket can significantly aid in optimizing the file sizes and improving the loading time of your website.
Employing a CDN like Cloudflare can distribute the load, saving bandwidth and speeding up access for your users.


If you're a WordPress user, focus on the efficacy of themes and extensions, like ThemeForest, which provides a vast library of themes, categorized and rated to help you make an informed choice based on your specific needs and the performance metrics of the theme.
11) Mobile optimization is the present and future

A non-responsive design can cripple your chances of indexation.
Google provides a helpful tool known as the Mobile-Friendly Test to check how easily a visitor can use your page on a mobile device.
It examines various elements like text readability, viewport configuration, and clickable elements spacing to provide a mobile-friendliness score.

Here's how you can use the tool and ensure your page is mobile-optimized:
Utilizing Google's Mobile-Friendly Test:





Navigate to https://search.google.com/test/mobile-friendly.


Enter your webpage URL and click on "Test URL".


The tool will analyze your page and provide a report indicating whether the page is mobile-friendly along with any issues detected.
12) Visual engagement, the role of images

Humans are visual beings, and while Google can't "read" images, it understands their importance in enhancing user experience. Ensure you:
Highlight image: Incorporate at least one highlight or featured image that serves as a visual introduction to your content. It should be compelling and relevant to the topic to entice users. You can use Canva, an online design tool to create compelling highlight images.


Multiple images: Aim to include at least three images that align with the content context. These images can help explain your content better and keep the users engaged. Use Unsplash, this website offers high-resolution photos for free.


Image optimization: It's crucial to optimize every image for both speed and SEO to ensure a better user experience and improved site performance.


File name and format: Select descriptive file names and choose efficient formats like JPEG or WebP for your images. This helps in better organizing and indexing of images by search engines.


Alt text: Provide descriptive alternative text (alt text) for each image as search engines can't "see" images. Alt text helps in understanding the content of the image and is crucial for accessibility.


Responsive images: Make sure images are responsive to ensure they load properly on devices of all sizes, enhancing mobile usability which is a factor in Google's ranking algorithm.


Lazy loading: Implement lazy loading to improve page load times by delaying the loading of images until they are needed. This is especially beneficial for pages with a lot of images. If you are using WordPress, install a3 Lazy Load, it's a plugin for lazy loading images and videos

FAQ: Google search results and Google indexing issues

Why isn't my page showing up on Google?


Google might need some time to index your page, especially if it's newly submitted. Wait a week and check again.

To check if your page is indexed by Google, you can type "site:your_domain_name" or "site:page_url" in Google. However, a more reliable method is checking through Google Search Console (GSC).


Ensure your page is well-linked within your site's main navigation to avoid it becoming an orphan page which can hinder indexing.


My site is indexed but some pages aren't, what should I do?



Why can't I find my indexed page easily in search results?


It may have a low ranking. Review Google's guidelines and check for multiple versions of the page using the URL Inspection tool.


How do I find out why my page/site is missing?


Check the indexing status using the GSC.


If your site is new or recently updated, give it some time.

Google Search Console indicate my page isn't indexed, what now?


Check one more time for blockers like "robots.txt". If there are no issues, request indexing via the tool.

How can I help Google find and index my site?


Submit a sitemap, ensure others know about your site, offer clear navigation, and request indexing for your homepage.

Request indexing for your homepage via GSC.


Avoid complex URL parameters; they're harder for Google to crawl.


Additionally, you can use IndexMeNow to help Google index your pages faster.