ChatGPT: why the world of SEO (and marketing in general) has changed forever
ChatGPT is the most talked-about tool of the last few months.
The disruptive technology of Elon Musk's co-founded company OpenAI has changed the world of digital marketing forever, opening new perspectives on how businesses will need to behave to market themselves in the future.
And this is just the beginning.
With the announced release of a more powerful model of AI by OpenAI – the so-called ChatGPT-4 – marketers worldwide are challenging themselves to adapt to the changes this tool has brought.
Amidst fear of getting overrun by the competition, brands are beginning to ask themselves how to use ChatGPT for their marketing needs, and especially for SEO.
Indeed, when talking about search engine optimization, ChatGPT can be a valuable help, capable of making a business's SEO strategy smoother, and even more effective.
But how can businesses use ChatGPT for SEO?
Let's dive into the best ways to take advantage of ChatGPT for your SEO game, what it can really do for it, and what the tool isn't yet capable of.
5 best tips to use ChatGPT for SEO
There are many ways you can use ChatGPT to improve your SEO efforts.
Here are 5 best practices to do it:
1. Use ChatGPT for keyword research and analysis
ChatGPT can help you with keyword research and analysis by generating a list of relevant keywords you can target in your content.
This can be especially useful if you're not sure what keywords your target audience is searching for, so that you can discover terms you may not have considered yet.
To do this, all you need to do is input a topic related to your business.
ChatGPT will then generate a list of relevant keywords that you can draw inspiration from and that you can target for your SEO content creation.
Then, you can ultimately analyze the competition for each keyword and determine which ones are the most profitable for you to target.
Combining ChatGPT with your 'traditional' keyword research will ultimately help you better target your public and to overall simplify the efforts required for your SEO strategy.
Also, here's a bonus tip: if you're targeting a foreign language you don't speak, ChatGPT will eventually translate the keywords to the language you used in your prompt.
Here's an example: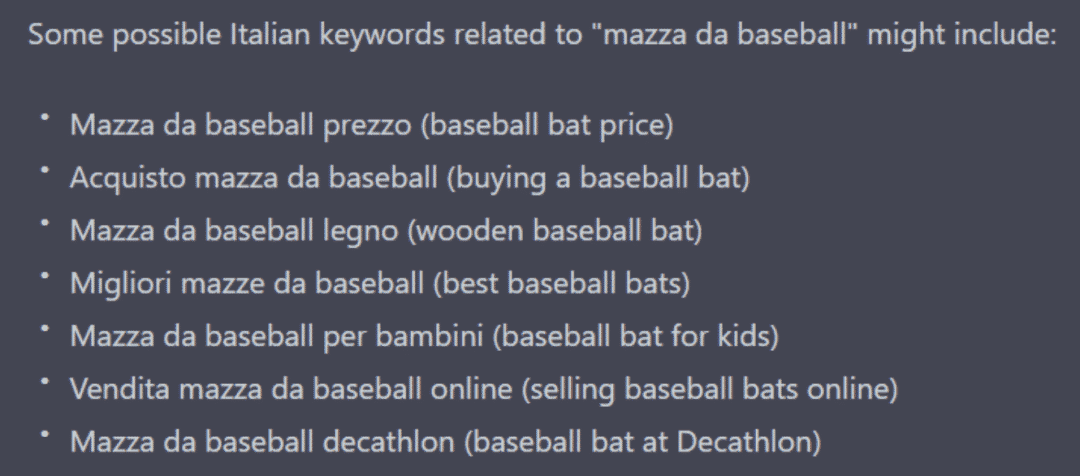 2. Use ChatGPT to develop your content strategy
ChatGPT can be a valuable help to businesses looking to outline their content marketing strategy.
Indeed, by using ChatGPT's conversational interface, you can input a topic and receive suggestions on both subtopics and ideas for your content.
When combined with solid market research, this trick will help you focus your content efforts on what your target audience is searching for, thus increasing your chances of ranking higher in SERPs.
And it doesn't end here.
In fact, you can also use ChatGPT to help you identify any gaps in your content offerings, like topics related to your niche that your competitors may be ranking for.
Ultimately, this will help you build a more holistic approach to SEO, and 'be there' for your target audience when a query related to your area of expertise is performed.
3. ChatGPT to optimize images' and videos' alt-tags
While optimizing images and videos for SEO can be a time-consuming task, ChatGPT can help you simplify the process.
Indeed, you can use ChatGPT to generate optimized alt-tags for your images and videos, which search engines will use to understand what your media is about.
Not only does setting relevant and descriptive alt-tags make your website more accessible to people with impaired vision – it will help you rank better in different ways.
Indeed, optimized alt-tags can help you:

Get your website ranked higher in image search;

Get your website featured in the image pack rich snippet;

Provide search engines' crawlers with more context on what your content is about.
To use ChatGPT to write descriptive alt-tags for your media, all you need is to provide the image or video to ChatGPT as input, along with a brief description of what the alt-tag should convey.
ChatGPT will then generate a descriptive alt-tag based on its understanding of the image or video and the provided description.
Here's an example of how to do it:
Input: "This is an image of a black and white cat sitting on a windowsill, looking out the window. Please, generate an alt-tag that conveys this."
Output: "Alt-tag: Black and white cat sitting on windowsill, looking out the window."
By providing accurate and descriptive alt-tags, you can improve the search engine visibility of your media, making it more likely to show up in image and video search results.
This, in turn, will drive more traffic to your website and increase your overall online visibility.
4. Optimize meta tags with ChatGPT
You can use ChatGPT to optimize your meta tags in various ways, in order to convey information about your website to search engines and help it rank higher in the SERPs.
First, as we have seen, ChatGPT can assist with keyword research, thus helping you identify the best keywords to include in your meta tags.
Secondly, it can help with determining the optimal length of meta tags to ensure they are neither too long nor too short.
Finally, ChatGPT can provide suggestions for your meta descriptions, thus helping you create engaging and informative texts that accurately reflect the content of your page.
By using ChatGPT for meta tag optimization, businesses can ensure their website is accurately represented in the SERPs and has the best chance of ranking at the top of the search results.
5. ChatGPT for SEO content creation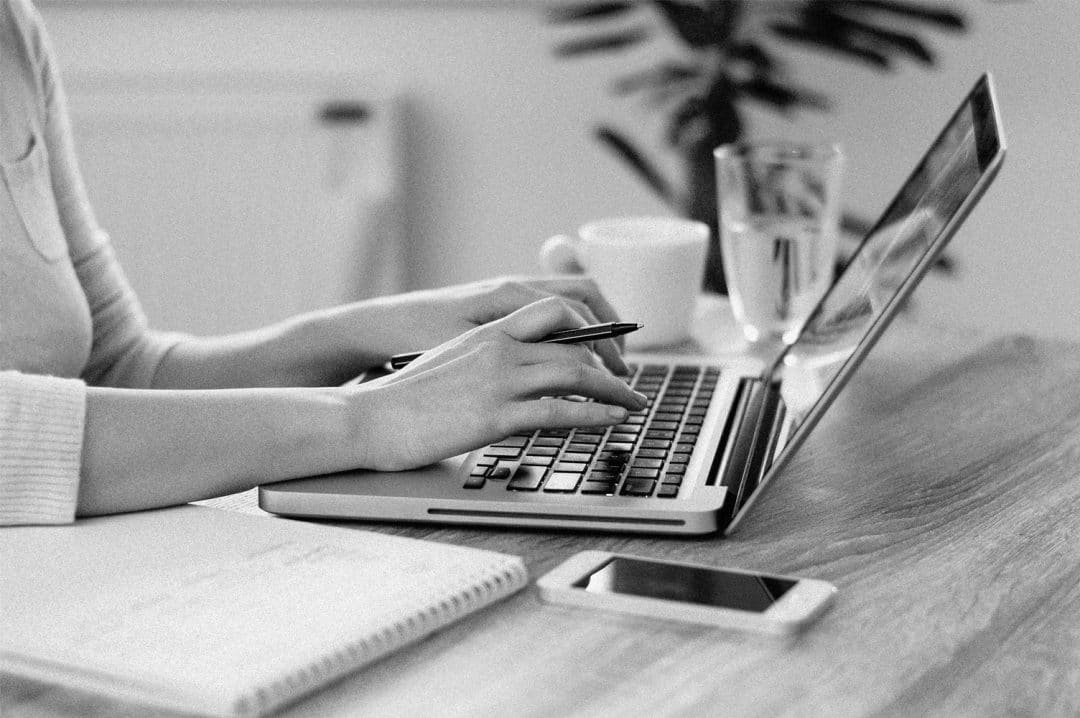 Businesses can use ChatGPT to help with SEO content creation by generating topic ideas, suggesting keywords to include in content, and even providing outlines for blog posts and articles.
However, it is important to keep in mind that ChatGPT, as advanced as it is, is still just a machine and cannot create truly human-like quality content.
On top of that, as stated in ChatGPT's own interface, the model may occasionally generate incorrect information, which is why it's crucial to review any content it generates before publishing it.
Finally, the model may sometimes overuse certain expressions, thus creating content that may sound repetitive, or even verbose.
In order to ensure high-quality content that will engage your audience, it's recommended you use ChatGPT as a tool to support your content creation efforts, rather than relying solely on it.
This means that while ChatGPT can provide a helpful starting point and make the content creation process more efficient, you should still put in the time and effort to add your own unique perspective, voice, and creativity to the content.
By combining the power of ChatGPT with your own expertise and critical thinking, you can create high-quality content that will attract your audience and support your SEO goals.
What ChatGPT can not do for SEO (and why it won't be able to do it soon)
While ChatGPT is a powerful tool businesses can use to boost their SEO efforts, there's a plethora of things the model can't yet do, and that it likely won't be capable of doing soon.
First, ChatGPT can only help with on-page SEO, which is just one of the many elements that contribute to the complex world of search engine optimization.
While for sure it can be a good starting point to make the process run smoother, ChatGPT can't:
Help you with off-page SEO (external ranking factors like backlinks and social media);

Help you with technical SEO (factors like the crawlability of your website, sitemaps, and optimization for mobile devices).
In addition to that, there's a single key factor ChatGPT isn't fully capable of helping businesses with, and it's safe to say it won't be able to do it within a short amount of time: brand identity.
Just think of it.
While ranking high in the SERPs can certainly positively affect your business image, that doesn't mean the public will suddenly feel attracted to your brand, nor that they will trust it.
Needless to say, brand identity is crucial to building a stable, long-lasting strategy to turn your website visitors into paying customers and convert them into loyal, returning clients.
Ultimately, we suggest you take advantage of ChatGPT's powerful perks for your SEO efforts, but that you always keep an eye on the unique abilities of humans and of other tools you may need for your SEO strategy.
How to fill in ChatGPT's SEO gaps to build a solid SEO strategy
As we have seen, while ChatGPT can certainly positively impact your SEO efforts, the truth is that it just isn't enough to build an SEO strategy that is going to last over time.
Sure, ChatGPT can help you make certain aspects of your SEO game run better…
But what does it matter if your approach misses some of the most important factors you need to build a long-lasting, effective SEO strategy?
Feeling too confident about ChatGPT's capacities will result in a harmful mistake for your business, which may lead you to both waste time and resources, and negatively affect your brand's reputation.
If you want to avoid permanent damages to your business like losses, delays, and image damage, then you should aim for a holistic approach that takes into account all the key pillars of SEO.
Luckily, you can do it with Getfluence.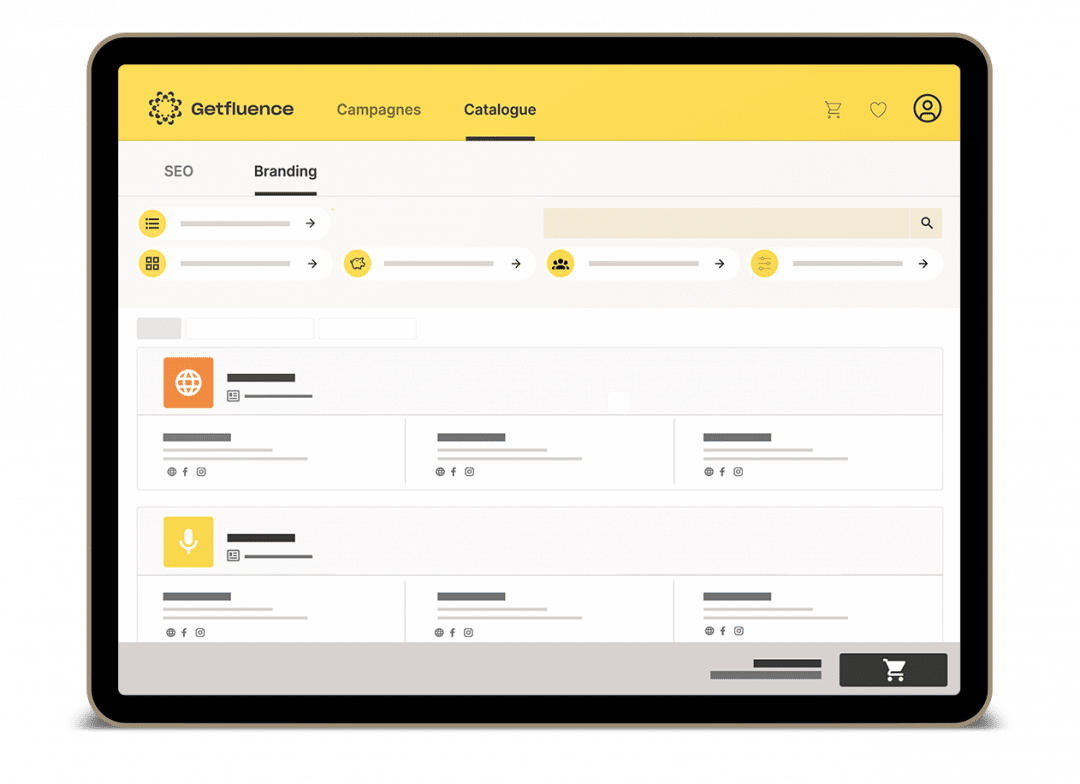 Getfluence is a global sponsored content marketplace that collaborates with 10.000+ publishers around the world, like Forbes and The Economist, to help you build an effective and stable SEO strategy for your business.
With Getfluence, you can easily overcome ChatGPT's main SEO gaps in two simple ways:
By publishing content that associates with your brand on reliable and SEO-trusted publishers, you will earn precious backlinks to make your website rank higher in the SERPs;

By sharing content that promotes your brand's image on relevant websites in your area of expertise, you will successfully reach your aimed audience and ultimately build trust in your brand.
If you're looking to build an effective and stable SEO strategy for your business, then Getfluence is the help you need.
You can save both time and money by trying Getfluence now, thanks to its simple interface and its competitive prices pre-negotiated for you with the world's best publishers.
Build your SEO strategy with ChatGPT and Getfluence now.
Most asked questions about ChatGPT for SEO
Is ChatGPT good for SEO?
ChatGPT can be a valuable help to improve your SEO efforts. However, you should keep in mind that ChatGPT itself is not enough to build a solid SEO strategy and that you can get the most out of it by combining it with human experts' abilities and other tools as well.
How do I use ChatGPT for content?
You can use ChatGPT to enhance your content creation in numerous ways, from helping with keyword research, to finding topic ideas, and even creating blog and article outlines. All your content should, however, be based on your brand's unique traits and target audience.
Can companies use ChatGPT?
Companies can use ChatGPT in numerous ways, from making their internal processes run smoother to improving their websites' rankings in the search results pages thanks to improved keyword research, optimized alt-tags, and smoother content creation.