The latest SEO trends to watch out for in 2022-2023
Google ranking factors keep changing.
In an ever-evolving era of innovation and technology updates, it may be harder than ever for SEO professionals to comply with big tech's requirements and to aim for the search engine's top spots.
Indeed, it is estimated that Google changes its algorithms 500 to 600 times a year, or roughly once to twice a day.
While most of these updates do not affect the SEO landscape, it is crucial for SEO professionals to cope with these changes, since some of them drastically modify how Google determines which page to show at the top of its SERPs.
With over 93% of the internet traffic coming from search queries, taking advantage of the latest SEO best practices has become a must for your project, and generally for every business that wants to reach and convert potential clients in 2022-2023.
Wasting such an occasion would mean not profiting from a great business opportunity, or else not being able to satisfy your clients' expectations.
Today many more companies are starting to recognize it, and that's why the interest in the importance of SEO is constantly growing.

What does this mean?
The top positions in SERPs are coveted more than ever, and the competition for them has become fierce and intense.
But how can you make your website rank high in the SERPs, with Google's ever-changing ranking factors?
At Getfluence we have conducted research on the best SEO trends and practices for 2022-2023, and selected the most effective ones in a 5 tips-short list.
Here are our picks:
1. 'People also ask'
The popularity of the "People also ask" rich snippet has seen a significant increase in recent years, due to Google relying more on it as a means to improve overall user experience.
Getting your website featured as an answer in the 'People also ask' questions can help you catch the interests of your audience, getting ahead of your competition in a practical, functional way.
But why is PAA so important?
First, since its introduction in April 2015, its presence in Google SERPs has increased massively – it is now featured for about one every two queries, or roughly 43% of all searches.
But this is just the beginning.
The frequency of the "People also ask" snippet grows even more for mobile users – a factor that gets particularly important, considering that 58% of online traffic came from smartphones last year.
So, how can you help your website get featured in the PAA box?
The first step is to look for the most asked questions for your chosen keywords.
In the aftermath, it may be inefficient to pick questions with a low search volume, so make sure the queries you select are relevant to your audience's intent.
Try to understand what your target is looking for by doing research on your own, then create content that fully answers the doubts they have.
Finally, make sure to include questions directly in your titles (H2s, H3s, H4s), or to even create an FAQ section for your content, which can be helpful for this scope.

2. Implement schema markup
Behind the scenes of your website, schema markup is the main responsible for how Google and other search engines understand and index your content.
Implementing a proper schema markup is crucial to help your website appear in featured snippets, a factor that can help your content seem more attractive and interesting to your audience.
But it doesn't end here.
With a gradually increasing interest in voice search – with services like Alexa and Google Assistant – implementing schema markup can increase your odds of being featured as the #1 result for users' queries.
This factor is critical, since most voice services only provide one result per search.
The unstoppable rise of voice search tools means implementing schema markup will be crucial in the next years, so make sure you don't miss out on this SEO trend for 2022-2023.
Simplify your SEO strategy with Google Markup's Helper
To help SEO professionals implement schema markup, Google itself has created a useful and practical tool, Google's Markup Helper, which is available for free.
Taking advantage of Google's Markup Helper may help you deal with the most technical side of SEO, allowing you to simplify the whole process.
You can consider using it to improve your overall SEO strategy for 2022-2023.
3. Google Discover
Similarly to other social networks' feed experiences, Google Discover serves users with content they may find interesting.
This feature has been around since 2017, though it is yet to emerge as an SEO best practice, and it will likely do so in 2023.
The reason behind that is simple.
In many cases, Google Discover drives more traffic than just organic search.
Blogs and other noncommercial pages should keep an eye on that, or other competitors may get ahead of them easily.
There are four aspects you should take into account to aim for the Google Discover feature:
Speed
It's crucial you improve your page's loading speed, especially if you own a lesser-known website.


Relevance
Your website will be shown to users according to factors like their location, history, and interests.

Also, websites that are highly focused on a subject are more likely to be eligible for topics users may have shown interest in.


Click-worthiness
Clickbait titles may make your content appealing to the readers, thus increasing the chances they will click on your website.


Schema-markup
Lastly, your web page should feature schema markup, or it won't be eligible for Google Discover.

4. Core Web Vitals
Core Web Vitals have seen increasing importance for search engine optimization, and have emerged as a major SEO trend for 2022.
First, they are a recent addition to the algorithm, introduced in 2021, on which Google is planning to rely more.
In addition to that, their relevance as a ranking factor is growing stronger with time.
Core web vitals consist of three elements:
Largest Contentful Paint (LCP), which measures how quickly users see your content;

First Input Delay (FID), which assesses how responsive your site is to a user's input;

Cumulative Layout Shift (CIS), that measures how often the elements of your page move around while the user is trying to read or interact with it.
Google uses user-centric metrics like Core Web Vitals as a critical tool to provide users with a great experience and decide which page to rank at the top positions in its SERPs.
While Google has confirmed the impact of Core Web Vitals on SEO will be limited, improving them with measures such as reducing the size of your page may gradually get more important with time.
Given the interest of the Mountain View company in improving the overall experience of its users, we expect Core Web Vitals to play a major role as an SEO trend for 2022-2023.
Accelerated mobile pages and Core Web Vitals
With the introduction of Accelerated mobile pages (AMP), Google aimed to improve the experience of its mobile users with fast-loading pages.
Nonetheless, some SEO professionals have worried about its possible interaction with Core Web Vitals as a ranking factor.
Though, Google has confirmed on its blog that AMP-built pages are likely to meet the optimal thresholds for CWV.
We can affirm AMP it's an evergreen move and we suggest you implement it in your SEO strategy for 2022-2023.
5. Follow E.A.T. guidelines
"EAT" is an acronym for "Experience, Authority, and Trustworthiness".
Google introduced this concept back in 2015 with its Quality Evaluator Guidelines, a document that gets updated timely.

The space dedicated to EAT guidelines has risen from just a few mentions to a whole section of the report, thus suggesting Google is gradually giving more importance to them.
EAT will likely play a major role as a ranking factor in 2023, so it is crucial you understand how it works in a detailed way.

First, all three elements that make up EAT (experience, authority, and trustworthiness) refer partially or completely to the creator of your content.
This makes it crucial for the author to establish a good reputation in their area of expertise on the web, since Google will take that into account.
Some best practices to achieve this include creating author pages or "about us" pages, as well as having mentions to the author on authoritative and reliable sources on the web.
The more high-quality backlinks pointing toward a website or author will appear on the internet, the higher Google will consider their authority in a particular niche or industry.
Along with that, some other practices you may consider to achieve this scope are refreshing your content regularly and linking to authoritative sources to rely on for stats and data.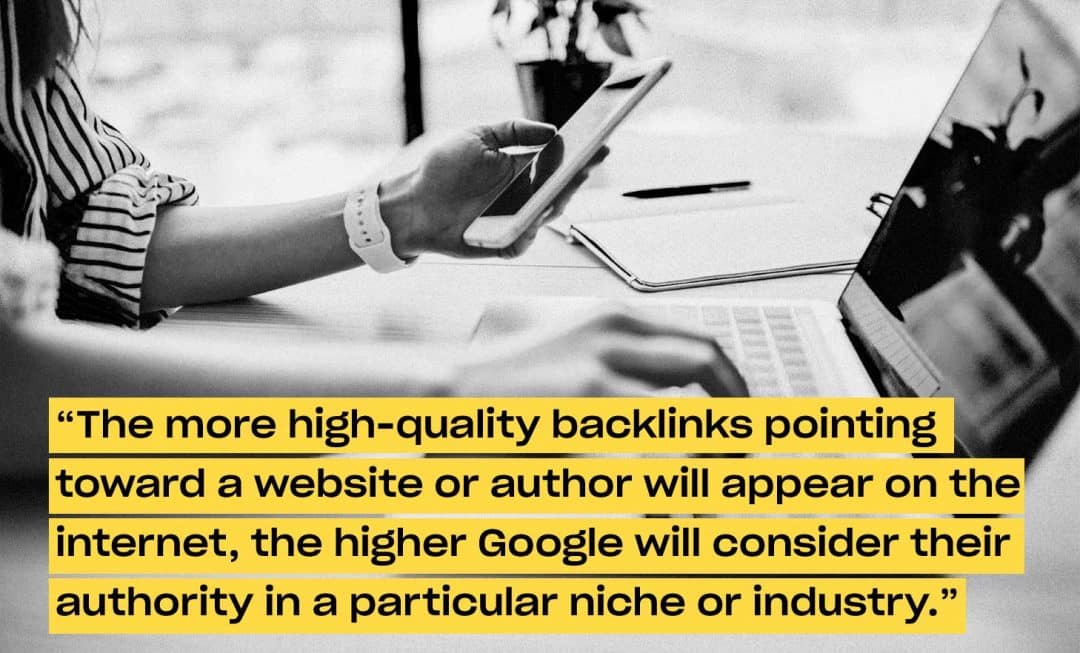 Develop your online reputation with Getfluence
To make sure your content respects the latest EAT guidelines, you should build your online reputation by relying on authoritative and respectable sources in your field.
For instance, you may develop a strategy that includes guest posts and other kinds of publications on trustworthy web portals.
Luckily, there are useful tools that can help you with that, allowing you to avoid wasting money and effort on an impractical and inefficient strategy.
Getfluence is a great player in that.
Offering you the chance to partner with over 10.000+ publishers around the world, it can help you manage campaigns with trustworthy and authoritative websites in your area of expertise – all while developing high-quality backlinks pointing toward your content.
All Getfluence's partners are accurately selected based on SEO trusted KPIs such as domain authority, trust flow, and citation flow, which means you can make sure you only collaborate with trusted, reliable authorities for link building.
Finally, on average Getfluence can help you save up to 70% of the time, thanks to its centralized messaging system that allows you to share any document or information relevant to your business.
Why does this matter?
Because it means more time and focus to take care of other factors that are important to your project, all while having the certainty of collaborating with trusted professionals that can guarantee you results to help you meet your expectations.
Try out Getfluence features and take advantage of its competitive prices right now.
Most asked questions about SEO trends for 2022-2023
What are the emerging SEO trends for 2022?
SEO trends for 2022 have seen increasing importance of rich results and user-experience-oriented features. Some best practices for SEO in 2022 include optimizing Core Web Vitals, prioritizing long-form content, and building high-quality backlinks.
What is the best SEO strategy for 2022?
The best SEO strategy for 2022 includes following all the latest up-to-date SEO trends. These include developing quality backlinks from authoritative sources, implementing the proper schema markup, and generally prioritizing long-form content over short compositions.
What is the future of SEO?
SEO will likely evolve to better fit the needs of users and improve their experience with search engines. Some factors that contribute to user experience are expected to gradually play a bigger role in SERPs rankings, like authoritative backlinks, which you can get with the latest professional tools like Getfluence.