About 61.8% of the world's population are internet users, and at the current growth trajectory, another 400 million people will gain access during 2022. Digital advertising will continue to grow along with the market, but it doesn't mean that it will be easy to reach your target audience. Here are a few of the top trends you'll have to master if you want to stay on top of the game in 2022:
1.

Content Marketing Will Continue To Deliver
Paid search spending will continue to grow, but content marketing will continue to deliver. Paid marketing can be defined as ads purchased on social media or the web. In contrast, content marketing presents users with content (including articles, blogs, videos, and audio) that they might find interesting. While both media offer low up-front costs and great returns, content marketing delivers three times the leads and costs 62% less. According to digital experts like Neil Patel, conversion rates for content marketing adopters can be six times higher than those without a content marketing strategy.
2.
The Pandemic Will Continue To Increase the Amount of Time We Spend Consuming Content Online
It's no surprise that continued lockdowns and fears about COVID-19 have meant that we've all spent more time indoors (and on the web). According to the latest GlobalWeb Statshot, 54% of people are spending more time streaming entertainment, 43% are spending more time on social media, 37% are spending more time listening to music streaming services, and 15% of people are listening to more podcasts. Digital activities and content will continue to climb in 2022.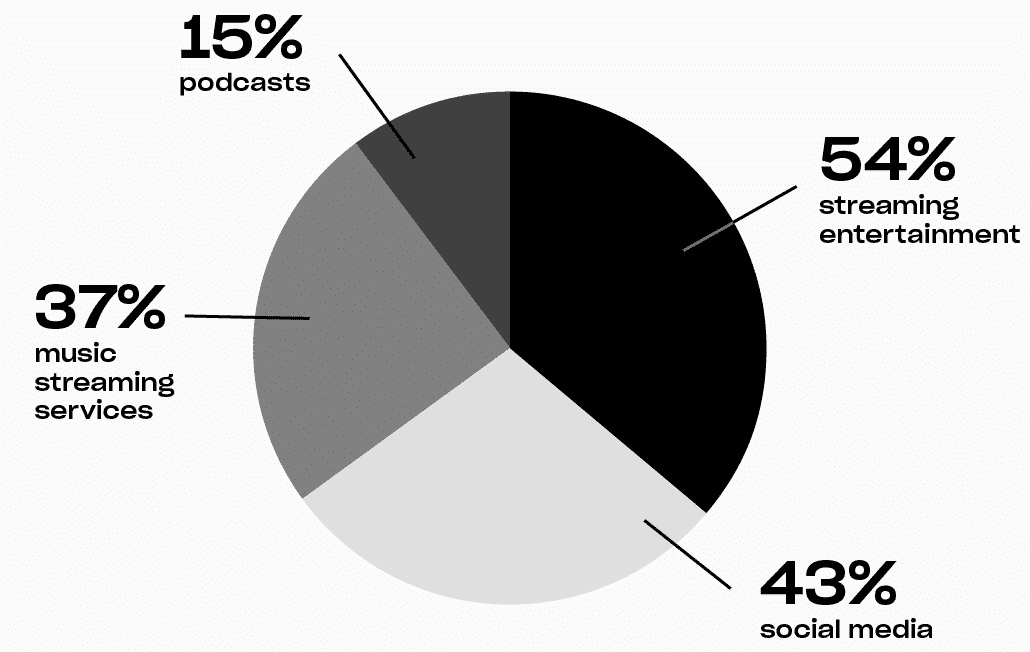 3.
Permanent Social Media and Longform Articles Will Overtake Ephemeral Content
Ephemeral content, which stays published for 24 hours before it disappears, was a hot trend for the past few years, but 44% of marketers are banking on permanent content instead because it generates better ROI. 37% say they will decrease their investment in ephemeral content.
While short and snappy content still has its place, long-form articles deliver real returns. Long-form content between 3000-7000 words gets twice as many page views and 24% more shares, more than 75% backlinks, and 21% more traffic than shorter-length articles. Keeping the audience's attention for 7000 words is a fundamental skill, though, so make sure that you utilize the skills of professional, tried-and-tested content writers when you compile your long-form pieces. Always balance your ephemeral content messages with the more in-depth permanent articles so that you never miss a trick.
4.
Branded Audio Content Will Increase
Early this year, when the audio chat room app, Clubhouse, entered the scene and gathered millions of users within a few weeks, Twitter, LinkedIn and Facebook all rushed to start testing and developing their features. As podcasting, voice notes, and voice search continue to climb, it's no surprise that 50% of marketing professionals will invest in audio content in 2022. Most audio platforms don't have many opportunities for monetizing, but this will start rapidly changing soon as advertisers continue to explore the trend.
5.
Sponsored Content Will Continue to Grow Dramatically
We don't know where sponsored content will go, but the current growth trajectory is impressive. According to AdYouLike, by 2025, sponsored content will reach $402 billion —up from $85.83 billion in 2020. It's not surprising, though. 70% of consumers would prefer to learn about new products and services through content than traditional advertising. It doesn't mean that all forms of sponsored content will be successful. For sponsored content to deliver returns, it has to be professional, organic, and trustworthy— something that not all advertisers can achieve.

6.
Blogs Are Back!
TikTok and Instagram are still exciting platforms to mine, but we shouldn't underestimate the written word. Small businesses with blogs can generate 126% more leads, 97% of companies with blogs have more inbound links, and websites with blogs have 434% more indexed pages than sites that don't have blogs. When the content is absorbing, rich and optimized, it is still a great way to drive traffic (and conversions in 2022).
Conclusion
We don't know what 2022 has in store, but innovative brands will have to break through the clutter and grab the attention of an increasingly sophisticated digital audience. Companies will have to up their content marketing budgets and consider their strategies carefully.
Businesses must produce content that shines, and they should examine new formats, technologies, and platforms. Above all, creating quality content is critical. Marketers have to vie for attention with renewed vigor in 2022—so make sure that your content truly earns the respect it deserves.