Engagement is an essential factor in brand promotion. If an audience doesn't engage with an advertisement, they're highly unlikely to remember the brand or look into it in more detail.
Finding engaging ways to present advertisements is now more complex than ever, especially for traditional display ads, like banner ads. One study found that 86% of consumers don't even notice banner ads at all.
To put it otherwise: The typical ad only receives 14% of engagement in some form.
Fortunately, there are alternative, much more effective means of advertising a brand, as far as consumer engagement is concerned.
In fact, whether your purpose is to launch a product or service or promote brand awareness, you need sponsored articles.
Sponsored Content is 22 Times More Engaging
When compared to traditional banner ads, sponsored content is 22 times more engaging. So, consumers are 22 times more likely to engage with sponsored content, like branded articles, than with a traditional display ad.
It's no wonder this form of marketing is predicted to exceed $402 billion by 2025. On top of this, the overwhelming majority of media groups expect their sponsored content revenue to continue to grow in the next 12 months, too.
What Makes Sponsored Articles More Engaging?
They Provide Value To The Reader
Sponsored articles offer much more value than a single banner ad. Rather than being 100% advertisement, sponsored articles are intended to provide entertainment and educational value to the audience.
No matter the article format, a sponsored article reads more like a story and doesn't force advertising on the audience.
In fact, consumers choose to engage with sponsored articles. They click on them because they're interested in what the publisher has to say. It's easy to see how a sponsored article can be more engaging than banner ads simply because consumers want to interact with it.
Their Approach Is Subtle

Branded articles are less direct and traditionally ad-like than display ads. Considering an estimated 46.2% of users worldwide use ad blockers, finding a way to advertise your brand without blatant advertising is becoming more and more essential.
Many audiences may not even notice that sponsored content is unique from a publisher's usual editorial articles. One study found that only 20% of people knew reading advertising rather than editorial content.
This more subtle advertising approach means that audiences are more likely to engage with sponsored content and enjoy what they're engaging with than traditional ad formats.
They're Written By The Publisher
A great characteristic of sponsored content is that the publisher produces it, not the brand that employs it for advertising.
Not only are readers more likely to engage with an article, but sponsored articles are also better perceived.
Readers are much more likely to care about what a publisher has to say than the information an unknown brand might try to feed them.
And because readers trust publishers, they're unlikely to disengage with an article even if they do realise it's sponsored.
The Quality Is There
The fact that publishers themselves create sponsored articles guarantees high-quality content.
While many advertisers and marketers might know what they want to say about their brand, they might not know how to say it.
Bloggers and journalists who write for publishers, on the other hand, write for a living. So, when producing sponsored articles on your behalf, they ensure they're of high quality and represent your brand in the best light.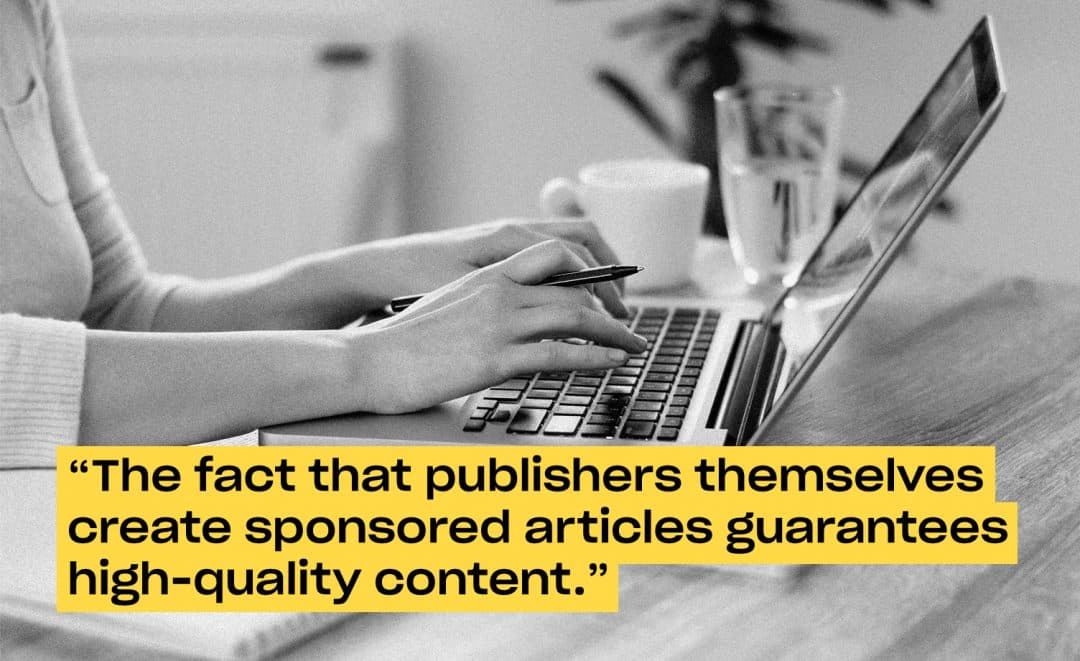 In Summary
As shown by the presented statistics, sponsored content can engage audiences in a way that display ads are incapable of achieving.
While that doesn't mean you should ditch display ads altogether, it's best to have your eggs in multiple baskets.
In every case, if you haven't already, you should make room for sponsored content in your yearly marketing budget the soonest.
Getting started with a sponsored content campaign can feel quite daunting, though. That is unless you choose the easy route to boost brand awareness.
To save time and effort in sourcing influential publishers to feature your sponsored content, use Getfluence. Access our online catalogue of media partners to find the most suitable for your campaign quickly and easily.